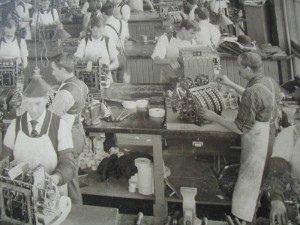 The HBAC Group takes great pride in the quality and detail of our new parts.  All of our replacement parts for antique cash registers are manufactured by us, or made exclusively for us, to our specifications.  We hesitate to refer to our parts as "reproductions," as they are new parts designed to duplicate the missing or broken original parts on your machine so that you may be able to repair or restore your cash register back to its original condition.  We have worked hard to make sure that the parts that we make are as close to the original as possible.  These parts are designed to replicate the quality craftsmanship that National Cash Register Co. designed for these beautiful registers.
Our goal is to provide you with the proper part of the best quality available for your machine.  If you do not see a part listed for your register, please ask, we may be able to assist you.  To help assist you with the parts you need, please have the model number of your register when you are ordering parts. To locate your model number, please refer to our register identification page.
The HBAC Group does not take orders via the website.  With parts as unique as these, we like to talk to our customers so that we can make sure you are ordering exactly what you need.  TO PLACE YOUR ORDER, please call us at (607) 792-3343 between 8:00 a.m. and 5:00 p.m. EST Monday through Friday.  You can also e-mail your order to info@hbacgroup.com .   Please include your telephone number should we have any questions.  We accept Visa, Mastercard, Discover, and American Express.  We also accept Paypal.