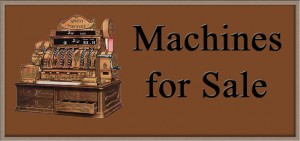 The HBAC Group takes great pride in the restored antique cash registers offered here for sale.     These machines are not reproductions, they are antique cash registers made before 1915.   All of these cash registers are completely restored.  Please refer to our restoration page to see what entails a full restoration of the antique cash registers we have for sale.  Some of the registers are offered for sale with an "Amount Purchased" sign or a customized glass sign.  The glass sign can be customized to display whatever you may desire, including, but not limited to, a company logo or a family name.   Should you have any questions, or wish to see other views of these cash registers, do not hesitate to contact us at info@hbacgroup.com , or give us a call at 607-792-3343.
Unless otherwise specified, all of the restored cash registers are sold with a "new" top sign.  The restoration process that each of these registers have gone through may have also necessitated the use of some other new parts.
Prices do not include crating and shipping; however this service is available by us.   The cost of shipping is usually quite reasonable, and arrangements can be made for pick up at our shop if desired.  All of our registers are sold with a brief overview on how to operate the register, as well as all of the keys for the locks.
At any given time, The HBAC Group has a working inventory of over 200 cash registers.  However, since our product is an antique, our inventory is subject to what we can locate and purchase, and is therefore constantly changing.  We attempt to keep a good selection of restored cash registers in stock and ready for sale, but since customer restoration work and parts sales take first priority, our inventory of restored machines is sometimes quite meager.  If a particular type or style of register has piqued your interest, but you don't see it displayed, please contact us and we will make every effort to locate "just the right register for you."